YELLO Equipment™ – 2023 MID-YEAR UPDATE
Hi Folks!
Guess who's back for another recap?
It's Andy Hopcroft here, General Manager of YELLO Equipment™. With the new financial year beginning, now is the perfect time to reflect on all we have accomplished and the plans we have for the rest of 2023!
So far in 2023, YELLO Equipment™ has experienced numerous remarkable highlights that have significantly contributed to the successful achievement of new milestones. Our noteworthy
accomplishments have heavily guided every aspect of our operations, including the expansion and enhancement of our equipment, services, and team.
For this exact reason, let us dive into what YELLO Equipment™ has been up to in the last 6 months and what is in the cards for us in the months ahead.
What has happened?
With a substantial number of achievements presently happening, YELLO Equipment™ has been able to strengthen our offering by welcoming several new faces, across both our sales and operation departments. These additional positions have undoubtably added to the advancement of our service and created great outcomes for our current and future customers. John Mortimer, Susan Tomisini, and Maarten Bolk were recently appointed within YELLO™, deserving a big congratulations!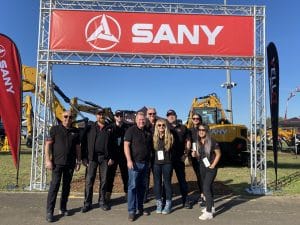 John Mortimer has taken on the role of Sales Manager and will be focusing on the equipment and building strong partnerships with customers. Susan Tomisini will be taking on the role of Aftersales Customer Support to further assist in the service provided to our customers even after the transaction is completed. Martin Bolk was recently appointed Business Development Manager in ACT. We truly look forward to the growth that will happen with these newly appointed positions.
In the last few months we attended numerous industry trade events, such as The Diesel, Dirt and Turf Expo. These events have been a standout point for our team, service, and equipment as we have been able to display multiple, diverse SANY products to potential new customers and industry sectors.. We were proudly able to highlight our equipment at DDT (Diesel, Dirt & Turf) in Sydney, NSW, Tocal Field Days in the Hunter Region, Primex in New South Wales, and FarmFest in Queensland.
DDT was a particularly rewarding event that we were able to attend for the third year in a row. The attendance over the three-day event saw many new prospectives coming to the stand, who were all very inquisitive about the promotions and deals on offer, which overall attributed to the wonderful triumph of the event. With such a great introduction to tradeshows for 2023, DDT unquestionably set the bar high for all that is to come.
This event saw the debut of two machines in the mini excavator space. With a great move towards sustainability and demand, YELLO Equipment™ was proud to introduce the electric powered future with a new eco-friendly excavator being welcomed into the fleet. With desires to respond to the growing demand for eco-friendly products, the SY19E was designed, produced, and delivered this year! Thanks to the zero-noise pollution and no-fuel system, this excavator will cater to a vast range of customers. Being such a phenomenal piece of equipment, the SANY SY19E was able to make a remarkable first appearance at the Diesel, Dirt and Turf Expo.
The second mini excavator introduced was the incredible SANY SY18U. Being the ideal choice for narrow and limited spaces, this excavator was selected for the exceptional power and capabilities it will provide your site.
With the grand opening of our Newcastle branch last year, 2023 has witnessed an impressive range of growth throughout YELLO Equipment™. We have and will continue to show support to this region with Newcastle Territory Manager, Dino Williams. His knowledge has been able to support this newly established centre while covering all bases in building customer awareness, obtaining machine stock, the delivery of equipment and providing aftersales support. This new facility has truly been a meaningful location for our brand, as we are able to offer our services to our Newcastle and Hunter Region customers.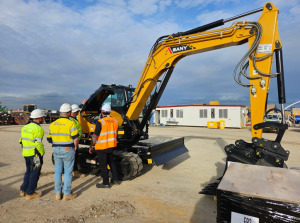 This year we saw our customer base growing into new industries, including plumbers and drainage, landscaping and civil constructors, thanks to the benefits of well-priced, extremely reliable, and robust machines supplied by SANY through YELLO Equipment™.
What is to come?
We are always looking for new ways to achieve even more. Our continued goal for the rest of the year will be expanding our awareness by reaching new customers, industries, and sectors. With demand increasing, we will be establishing our operations in the ACT and the greater regions. Our newly appointed Business Development Manager, Marty Bolk, will be working on this growth, with boots on the ground to better support this expansion.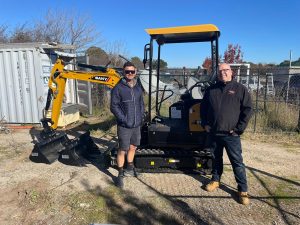 With the enormous success of the regional trade shows, we have several upcoming events we are attending during the rest of the year. You will find us at AgQuip Field Days on the 22nd-24th of August, Murrumbateman Field Days on the 21st-22nd of October, and Australian National Field Days on the 26th-28th of October.
New shipments are always coming in from SANY and we are working closely with both our customers and OEM to provide as much available stock as possible. SANY will be continuing to expand their product portfolio in the Australian market, with YELLO Equipment™ excited to see what will come. Thanks to the team and people that made this year great! I am extremely proud of how far we have come. I look forward to what the rest of 2023 will bring us and do not forget, we are with you all the way….
If you have any questions or queries, please do not hesitate to contact myself or the team.
Andy Hopcroft,
General Manager